Medeski & Martin's Shack Party / CMS Benefit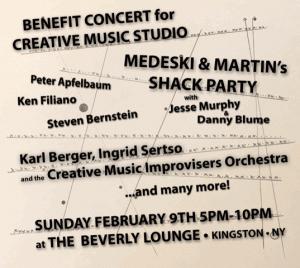 John Medeski and Billy Martin's Shack Party will headline at The Beverly Lounge in Kingston NY on February 9th 2020. There will be several sets of music from 5pm to 10:30pm to benefit Creative Music Studio, the legendary non-profit foundation (founded 1972 by Karl Berger, Ingrid Sertso and Ornette Coleman).
Guests will include Jesse Murphy (Norah Jones), Danny Blume (Kid Creole and the Coconuts), Steven Bernstein (Levon Helm, The Lounge Lizards), Peter Apfelbaum (Don Cherry, Bill Laswell), Karl Berger (Steve Lacy, Terry Riley), Ben Vida and more.
Also,
Karl Berger conducts the Creative Music Improvisers Orchestra,
Legacy (Ingrid Sertso, Steven Bernstein, Billy Martin, Karl Berger, Ken Filiano, Peter Apfelbaum).
---
Admission:
18+
Share Event:
More Events