C.K. & The Rising Tide, Allison Olender, and William Lawrence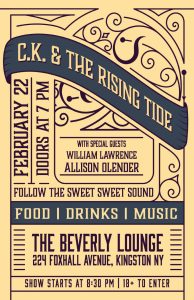 WILLIAM LAWRENCE is a songwriter and multi-instrumentalist living in Philmont, NY. He is also the drummer of the New York folk-rock band The Felice Brothers.
ALLISON OLENDER is a singer/songwriter from Baltimore, Maryland. Her songs sit in the world between dreamy mystery melody and classic folk. Drawing influence from the songs her dad would sing to her in the grocery store and and the eclectic CD car collection of her mother, her music takes quiet turns toward unapologetic loud femininity. Be listening for a story from the singer and her guitar, and decide for yourself who she is singing for. Allison currently lives in the Hudson Valley.
C.K. & THE RISING TIDE's brand of Americana features poetic, nostalgic lyrics supported by music that is rockin' and emotionally evocative. Curtis K. Flach ("C.K.") appreciates how a film's soundtrack enhances and cements the emotions portrayed on-screen. C.K. has a similar agenda for his tunes: "I write music as a soundtrack to daily life – a way to express things you might not be able to say otherwise…or may not want to say."
---
Admission:
18+
Share Event:
More Events